About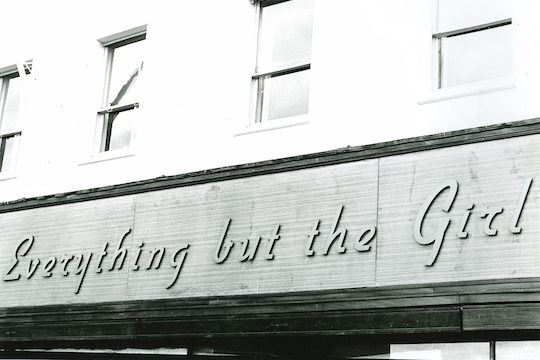 Everything But The Girl was formed in 1982 by singer-songwriter-musicians Tracey Thorn and Ben Watt after the pair met as students, aged 19, at Hull University in October 1981. Coincidentally both were already separately signed as emerging artists to London independent record label, Cherry Red – Tracey with her lo-fi minimal girl group, Marine Girls, formed while still at school; Ben as a young guitarist and singer-songwriter. Their meeting had been suggested by Cherry Red A&R man, Mike Alway.
Intended as a one-off collaboration, their debut 7″ single – a stark and stripped-back cover version of Cole Porter's Night and Day – was released in March 1982 on Cherry Red. The recording of Night and Day had been an afterthought, laid down in a spare fifteen minutes at the end of the session; the flipside cuts, Ben's Feeling Dizzy and On My Mind (a Marine Girls song written by Tracey) were originally intended as the A and B side. Tracey's unflashy autumnal voice over Ben's jazz-folk chords stuck out in a year of punk-funk, and the release climbed to Number 6 on the UK Independent Singles Chart in June of the same year, staying on the chart for thirty weeks.
The duo's name was taken from the slogan on the front of Turner's furniture shop in Hull.
It would be two years before another Everything But The Girl recording would appear. In the interim the pair remained prolific. Two weeks after Night and Day, Cherry Red released Ben's atmospheric five-track EP Summer into Winter featuring Robert Wyatt on backing vocals and piano. In September Tracey's eight-song minimalist mini-album, A Distant Shore, recorded in a friend's garden shed, reached number 2 on the UK Independent Album Charts, staying on the chart for 43 weeks. February 1983 saw the release of Ben's debut album North Marine Drive (UK Independent Album Chart, No 9), and a second and final Marine Girls album, Lazy Ways (UK Independent Album Chart, No 4) appeared in April.
The period was also marked by an unexpected approach from Paul Weller only days after he had split up The Jam in late 1982. The upshot was Weller's surprise appearance on stage singing and playing guitar with Ben and Tracey at the ICA in London in January 1983 as part of the NME rock week, and weeks later he invited the pair to contribute to the debut album by his new band the Style Council; Tracey and Ben both performed on The Paris Match.
In the summer of 1983 Ben and Tracey – now a couple both privately and professionally – decided to pool new songs for the debut Everything But The Girl album, Eden. Recorded with producer Robin Millar (chosen for his work with Weekend and The Pale Fountains) at Power Plant Studios in Willesden, it featured Weekend's Simon Booth on second guitar, This Heat's Charles Hayward on drums, and South American musicians Chucho Merchan (double bass) and Bosco D'Oliveira (percussion) plus a clutch of top horn players from the English jazz scene. It was released on the newly-formed Blanco Y Negro through Warner, and signalled Everything But The Girl's move from an independent to a major label. The album, released in May 1984, spawned a UK Top 40 hit – the acerbic latin pop of Each and Every One – and went on to sell over half a million copies around the world.
Intent on new work, the pair moved on from Eden immediately and released two fresh three-track singles in the summer of 1984 – Mine and Native Land – and as Sire Records signed the duo for North America, a special US album was created entitled Everything But The Girl later in the year featuring all six of the new tracks plus six songs from their debut.
The next three albums charted different and idiosyncratic paths. The folk-jazz of Eden was replaced by the politicised guitar-pop of Love Not Money (1985) featuring Young Marble Giants' Phil Moxham on bass and The Mo-Dettes' June Miles-Kingston on drums. 1986 saw further change with the ambitious wall-of-sound of Baby, The Stars Shine Bright, scored for orchestra by Ben, recorded at Abbey Road with Mike Hedges, and featuring the radio hit, Come On Home. And in 1988 came the more introspective self-produced drum-machine-pop of Idlewild, engineered by Jerry Boys. All three went gold in the UK, selling over 100,000 copies.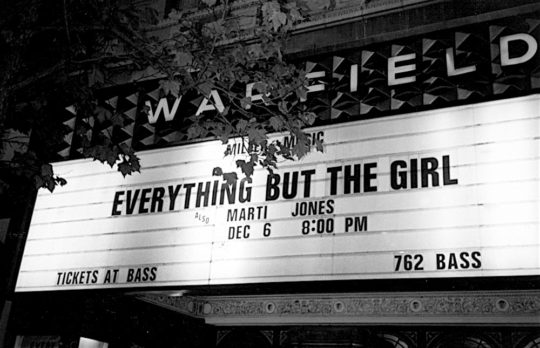 Pressed by the record company for another chart hit, in the summer of 1988 the duo recorded a cover of Danny Whitten's I Don't Want To Talk About It. On release it peaked at number 3 on the UK Top 40 and was later included on new editions of Idlewild.
The following year Ben and Tracey teamed up with US jazz and soul producer Tommy Lipuma, travelled to Los Angeles and spent six weeks recording the 1990 album The Language Of Life in some of the top LA studios. Featuring the cream of West Coast session musicians and a guest appearance from jazz legend Stan Getz, the album spawned their first serious US hit as Driving dominated adult radio playlists.
It was a mixed blessing. The Language of Life may have become Everything But The Girl's second half-million-selling album, but it divided fans at home, and pushed the pair further from their independent roots. The duo responded swiftly with the self-produced Worldwide (1991) but it met with a muted response; European audiences seemed to have turned away.
Returning to basics, in 1992 they recorded the four-song Covers EP including versions of Cyndi Lauper's Time After Time and Mickey and Sylvia's Love Is Strange, which received extensive radio play. It saw the duo return to the charts. The Covers EP peaked at number 13 on the UK Top 40 and was expanded into an album, Acoustic, for North America, but on the verge of a tour to promote it, Ben was dramatically admitted to a London hospital with a life-threatening illness.
Diagnosed with a rare vasculitic auto-immune disease and lucky to survive, he underwent several life-saving operations, spent nine weeks in and out of intensive care, and lost 50lbs (23kg) over the summer of 1992.
Shell-shocked but unbowed, the pair returned to work in 1993 with two 4-track EPs, the lead tracks on each – I Didn't Know I Was Looking For Love and a cover of Simon and Garfunkel's The Only Living Boy in New York  – produced by New York veteran Phil Ramone. I Didn't Know I Was Looking For Love would later become a UK Top 10 hit for Karen Ramirez.
A year later came Everything But The Girl's seventh studio album, Amplified Heart. Part-produced with electronic producer John Coxon, and shot through with heartfelt songs in the wake of Ben's hospital ordeal, the album's ardent folktronica features cameos from folk-rock veterans Danny Thompson, Dave Mattacks and Richard Thompson. It also includes their biggest hit, Missing. The percolating original was remixed several times before a house mix by New York DJ-producer Todd Terry unexpectedly made the leap from heavy underground club play to global overground radio success. Missing went on to sell over three million copies, peaking at number 2 on the US Hot 100, number 3 on the UK Top 40 and number 1 on the Canadian, German and Italian singles charts. It reached the top ten in a host of other countries and was the first ever single to spend an uninterrupted year on the US Hot 100. Amplified Heart became Everything But The Girl's first gold album in the US, and a million-seller worldwide. Missing was nominated for Best Single at the UK BRIT awards in 1995.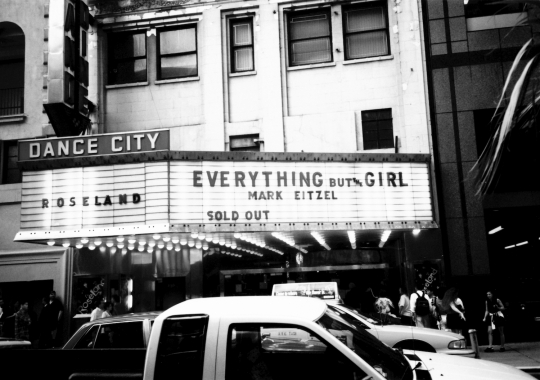 Missing was a slow-burn success. Midway through its remarkable eighteen-month rise, Warner – who had marketed and distributed Everything But The Girl's albums outside of North America since 1984 – unexpectedly got cold feet and ended the duo's contract. Even Tracey's collaboration with Bristol collective Massive Attack on their second album Protection (1994) was not enough to persuade Warner to change their mind.
Out of contract and buoyed by a new found musical direction, Ben and Tracey went on to deliver Walking Wounded (1996), nine torch songs brimming with sounds and grooves from the mid 90s electronic scene. The album delivered four UK Top 40 hits – Walking Wounded, Wrong, Single, Before Today – and gave the band a new audience and a new home outside North America on Virgin Records. To date it has sold over 1 million copies.
1999's album Temperamental followed a similar template, but the birth of the pair's twin girls in 1998 had signalled a fork in the road. After final festival appearances in 2000, and eighteen years of near-continuous work, the duo decided to quit on a high. Tracey chose to focus on family life away from the spotlight. Ben moved into production and developed a lateral career as a DJ and remixer.
Two notable compilations appeared in 2002 and 2004: the first, Like The Deserts Miss The Rain, was a handpicked selection of favourites by Ben and Tracey with artwork by Peter Saville; the second, Adapt or Die, was a collection of their favourite remixes of their work, with art design by John Gilsenan at iwantdesign.
Tracey restarted her solo career as a singer and writer in 2007. Ben remained on the electronic scene as a DJ, producer and label boss of his own award-winning record label Buzzin' Fly until 2014 when he too returned to his solo roots as a singer-songwriter.
In 2017, Ben's independent label, Buzzin' Fly took over ownership of the first eight Everything But The Girl albums and associated recordings. The catalogue – from Eden to Amplified Heart, covering the years 1984-1995 – had previously been controlled by Warner Music. Buzzin' Fly has immediately partnered with the newly re-launched independent label, Chrysalis Records to help curate and protect the catalogue's future.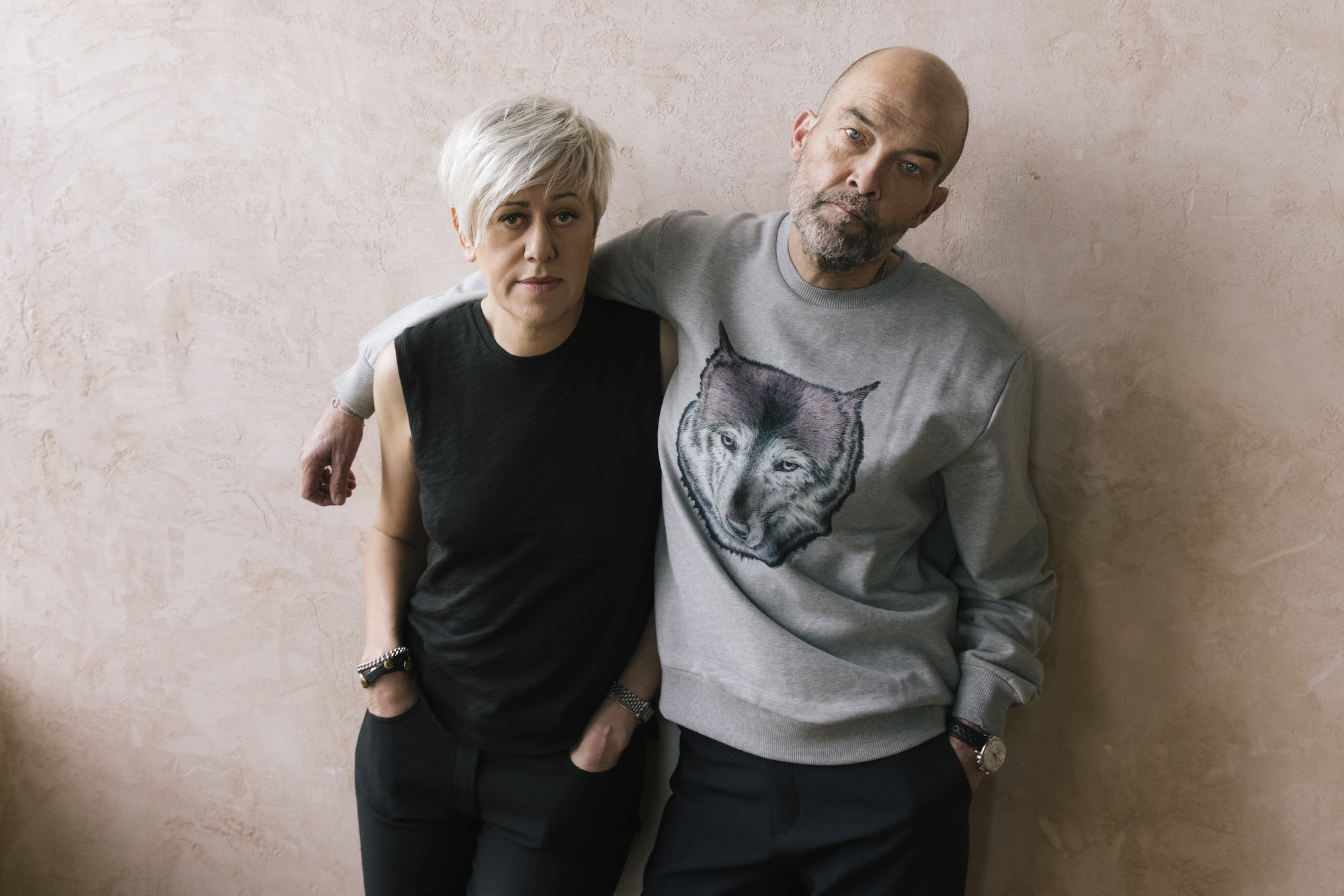 In November 2022, Ben and Tracey quietly announced on social media that they had made a new album due for release in spring 2023. The first single, Nothing Left To Lose, was released on Jan 10 2023, accompanied by a video by Charlie di Placido.
The album, Fuse, was released on April 21 2023 on Buzzin' Fly through Virgin Music Group. It reached No 3 on the UK Album Charts, the highest charting album of the band's career, garnering widespread acclaim. The Guardian was among several high-profile publications to post a 5-star review. In a career-spanning interview feature, Pitchfork called it the duo's "triumphant new album … bewitching and soul-baring". The NME review said, "How reunion albums should be done … the blueprint for any alt-leaning electronic act in the pop space … proves how big an impact their music has made on the landscape that has followed."