Solo

Tracey
Born in 1962 in Brookmans Park, Hertfordshire, Tracey formed her first band, Marine Girls while still at school. The band – which also featured the Fox sisters, Jane and Alice – released their debut lo-fi album Beach Party in 1980. In 1981 Tracey met Ben Watt at Hull University and the pair formed the duo Everything But The Girl. In 1982 Cherry Red released the debut Everything But The Girl single, Night and Day (UK Independent Singles Chart Number 6), and Tracey's acclaimed debut solo album, A Distant Shore (UK Independent Album Chart Number 2). A second – and final – Marine Girls album, Lazy Ways (UK Independent Album Chart, No 4) came out in 1983.
With the disbandment of Marine Girls, from 1983 to 2000 Tracey wrote and performed as one half of Everything But The Girl, who went on to sell over nine million records. She also guested and collaborated with artists including The Go-Betweens and The Style Council, and most notably Massive Attack on their second album, Protection (1994).
Tracey restarted her solo career in 2007 with the album Out Of The Woods, released on Virgin and Astralwerks. After seven years away from music to raise a young family, it was a new start. Part stripped-back pop, part dance it was co-produced by Ewan Pearson with contributions from Charles Webster, Alex Santos, Caged Baby and Vector Lovers. In many ways it joined the dots from her early teenage releases to her later work in Everything But The Girl and Massive Attack.
Moving off Virgin and back into the independent sector, she followed it up with 2010's Love and Its Opposite, produced by Ewan Pearson, and released on husband Ben Watt's label Strange Feeling in the UK, and on Merge Records in North America. It features guest contributions from Hot Chip's Al Doyle, The Invisible's Leo Taylor, Swedish singer-songwriter Jens Lekman, Nashville musician Cortney Tidwell and Jagwa Mar's guitarist Jono. Steeped in a compassionate directness, it was largely a move away from electronic textures to tight, often undecorated arrangements for guitar, piano, bass, and drums. It was followed by an EP of remixes, Opposites, and then a remix album, Extended Plays.
2012 saw the release of her alternative Christmas album, Tinsel and Lights featuring off-the-beaten-track seasonal songs by Sufjan Stevens, Joni Mitchell, Randy Newman, Ron Sexsmith and The White Stripes as well as two of her own songs. Scritti Politti's Green Gartside sings guest vocals on a cover of Low's Taking Down The Tree.
In 2013 Virago published her Sunday Times best-selling debut memoir, Bedsit Disco Queen – How I Grew Up And Tried To Be A Pop Star. Alexis Petridis of The Guardian wrote: 'As distinctive and lovely as its author's singing voice, Bedsit Disco Queen isn't just a wry and wise memoir of a unique career: it acts as a kind of eulogy for a forgotten era of British pop.'
In 2015 she wrote eight original songs and sketches for The Falling, the acclaimed first feature film by English director, Carol Morley; they are collected together on a mini-album, Songs from The Falling (2015) on Strange Feeling.
2016 saw the publication of her second book, Naked at The Albert Hall. Half memoir, half exploration of the art of singing, The Independent said: 'Revelatory, always entertaining . . . a genuine insider's perspective . . . Thirty years of consideration went into this quietly impressive volume, and it shows.'
Since 2014 she has been a twice-monthly columnist for the New Statesman magazine and has contributed reviews and features to other publications including the Guardian and the Spectator.
There have been further musical collaborations including guest appearances with John Grant, Tevo Howard and Jens Lekman.
In March 2018 Tracey released her solo album, Record. Produced by Ewan Pearson, it features guest appearances from Warpaint's Stella and Jenny, plus Corinne Bailey Rae and Shura. 'A punchy, potent return from one of UK music's most distinctive voices,' said  Q magazine.
2019 saw the publication of Tracey's third memoir Another Planet – A Teenager in Suburbia. Before she became a musician and writer, Tracey was a typical teenager: bored and cynical, despairing of her aspirational parents. Returning more than three decades later to Brookmans Park, scene of her childhood, she takes us beyond the bus shelters and pub car parks to the parents who wanted so much for their children, the children who wanted none of it.
On April 1 2021 Tracey's latest book, My Rock n Roll Friend was published. In it she takes stock of thirty-seven years of friendship with Lindy Morrison, drummer in Australian art-rock band The Go-Betweens, teasing out the details of connection and affection between two women who seem to be either complete opposites or mirror images of each other. This important book asks what people see, who does the looking, and ultimately who writes women out of – and back into – history.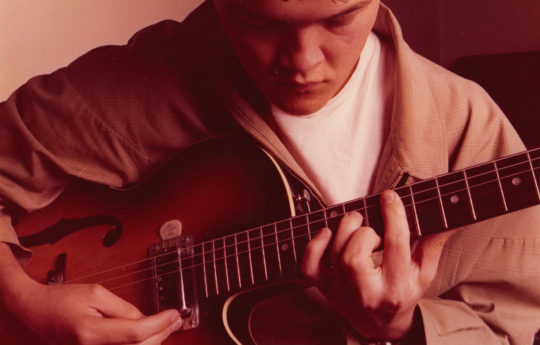 Ben
Born on December 6 1962 in London to Scottish jazz arranger, pianist and bandleader Tommy Watt and actress-turned-journalist Romany Bain, Ben Watt first appeared in 1981 on London indie Cherry Red as a young nineteen-year-old experimental songwriter-singer-guitarist. His first single Cant was produced by folk maverick Kevin Coyne. The follow-up, 1982's 5-track EP  Summer into Winter featured Robert Wyatt on piano and backing vocals. Watt's guitar-playing – rich folk-jazz voicings and propulsive echo-delay – set him apart from many of his contemporaries. His early work culminated in his sparse atmospheric debut album North Marine Drive (1983, UK Independent Album Chart, No 9) and featured solos from British alto sax giant, Peter King.
In the summer of 1983 he put solo plans on hold to perform and write full-time with Tracey Thorn in their recently-formed duo Everything But The Girl. The pair had met at the University of Hull in 1981 and released a collaborative single, Night and Day (UK Independent Singles Chart Number 6) in 1982.
Everything But The Girl stayed active until 2000, releasing nine studio albums. They delivered twelve UK Top 40 singles (including four top 10's) and seven UK Top 20 albums. Remixed by Todd Terry, the duo's 1995 global hit Missing reached No. 2 on the US Billboard Top 100, and was followed by the best-selling album of their career, Walking Wounded in 1996.
Yet the nineties were nearly a different story: in June 1992, on the eve of an Everything But The Girl tour of North America, Ben was rushed to a London hospital where he was diagnosed with a rare vasculitic auto-immune disease, Churg-Strauss Syndrome. He spent the next nine weeks in and out of intensive care at Westminster Hospital where he endured several lengthy operations and came close to death. Lucky to survive, he returned to music in 1993 and later detailed his experience in an acclaimed memoir, Patient, published by Penguin in 1996.
As Everything But The Girl finally came to a halt at the end of the nineties, Ben – inspired by the duo's later electronic influences – moved into record production, DJing and clubland. In 1999 he produced two tracks for singer-songwriter Beth Orton's second album, Central Reservation (nominated for Mercury Music Prize) and in 2002 mixed her third album Daybreaker (nominated for Best Album at Q Awards).
As a DJ, from 1998-2003 he established the sell-out Sunday deep house party Lazy Dog with Blackmarket's Jay Hannan at the small Notting Hill Arts Club in west London, and later at the 1,000-capacity central London club, The End. With a popular tag-team DJ style, the pair saw their reputation enhanced with sparkling US tours and two best-selling mix compilation albums on Virgin/Astralwerks. Ben also turned out an accompanying string of dancefloor-oriented remixes for Sade, Maxwell, Sunshine Anderson and Meshell Ndegeocello.
Deepening his ties with clubland, from 2002-2005 Ben was part-owner-founder of two new west London event spaces – Cherry Jam (a tiny 160-capacity basement in Royal Oak), and Neighbourhood (built from the shell of the old 600-capacity Subterania club near Portobello Road). Resident DJ at each venue, he orchestrated the design and music policy for both and helped establish their three-year reputation at the forefront of London's club scene.
2003 saw the launch of his own independent house and electronic record label Buzzin' Fly Records. The label won Best Breakthrough Label at the House Music Awards 2004 and was runner-up as Best Label at the DJ Magazine Best Of British Awards in both 2007 and 2008. As well as fostering new talent, Ben released several club tracks of his own on Buzzin' Fly including his evergreen 2005 collaboration with Estelle, Pop A Cap in Yo Ass. 2007 saw the launch of sister imprint, Strange Feeling, with a focus on non-electronic artists. Ben was nominated for Outstanding Contribution to Dance Music at the DJ Magazine Best Of British Awards 2009.
As a club DJ, Ben's international reputation grew widely in 2005 when he was booked on the festival circuit (Good Vibrations in Australia, Homelands and Lovebox in the UK, Coachella in the US, and Ireland's Electric Picnic). In 2008 he went on to open the Sonar Festival in Barcelona and became a resident DJ on the Space terrace on Sundays in Ibiza. In New York he was given a three-year Giant Step residency at Cielo. He was nominated four years running (2008-2011) as Best Deep House DJ at the global DJ Awards held in Ibiza.
His weekly online Buzzin' Fly radio show broadcast more than 150 editions between 2007-2009 with re-broadcasts on the Galaxy Network and Kiss 100. He finally closed the show in 2009 and became a resident DJ on BBC Radio 6 Music's flagship electronic music programme, the 6 Mix, until the show moved off the schedule in 2014.
In March 2013, on the anniversary of Buzzin' Fly's tenth birthday, to the surprise of many he announced a change of direction to return more fully to his own creative work. His DJ schedule was stopped, the label was placed on hiatus, and a new imprint and production company, Unmade Road was launched.
Returning to his earliest roots in folk and jazz and art-rock, he recorded the award-winning solo album, Hendra (2014) – his first work as a solo singer-songwriter since 1983's North Marine Drive. Produced by Ewan Pearson, it features guitarist-sideman Bernard Butler and a rare cameo from Pink Floyd's David Gilmour.
2014 also saw the publication by Bloomsbury of his second memoir, Romany and Tom. A fearless portrait of his parents, it was nominated for the prestigious Samuel Johnson Non-Fiction Prize 2014.
After extensive touring with Hendra, 2016 saw the release of the follow-up album, Fever Dream, again featuring Bernard Butler plus guest vocal cameos from Boston's singer-songwriter Marissa Nadler and Hiss Golden Messenger's M.C. Taylor. Uncut Magazine posted a 9/10 review. The Guardian commented: 'In his early fifties, he is making some of the best music of his career.' The Washington Post noted: 'Jazzy, bluesy, slightly overdriven, passionate and poetic … Watt has worn many hats but these songs fit him like a glove.'
In January 2020, Ben released Storm Damage. Sonically adventurous, the album sets a "a future-retro trio" of upright piano, double bass and hybrid acoustic-electronic drums against a half-lit backdrop of lone synths, dub and impressionistic 'found sounds' adapted from online public-domain recording archives. "Enthralling and adventurous" 9/10, UNCUT (UK); "Beautiful and nuanced music-making" SUNDAY TIMES (UK); "The best record of his career" POPMATTERS (US); "Wise and angry songs of the great songwriter"★★★★1⁄2 ROLLING STONE (GERMANY)
April 2021 saw the release of Storm Shelter, a 6-track mini-album and companion piece to his 2020 studio album Storm Damage.